SERVING THE FORESTRY INDUSTRY
















Log Towing Services
Fraser River, Howe Sound, Cross Strait.
At the heart of our business lies our dedication to serving the coastal mills sector through exceptional log towing services. This industry has not only supported us during challenging periods but has also propelled us to become the reputable organization we are today.
Our expertise lies in providing comprehensive transportation solutions to the forestry industry. We specialize in the transportation of logs, lumber, lumber by-products, pulp, and paper to and from coastal mills. Our commitment to reliable and efficient transportation ensures that our clients receive their products punctually and in optimal condition.
We operate extensively along the British Columbia Pacific Northwest, covering navigable areas of the Fraser River, Squamish, Howe Sound, and Vancouver Harbour. Our services also extend up north and down south to US waters.
As the foremost service provider from the Howe Sound community, we consistently tow 3 to 4 wide log tows to the North Arm Fraser River. Our primary area of daily operation for log towing extends from the North Arm Jetty to the Port Mann Bridge in New Westminster.
Upon customer request, we can also accommodate tows from the North Arm to Nanaimo and Crofton areas.
In addition to our core services, we offer a comprehensive list of supplementary offerings, including:
– Boom Repairs
– Boom Board Replacement
– Water Taxi Boom Inspection
– Drone charting within water lot storage grounds
– Water Taxi Charting within water lot storage grounds
– Customer portal access to boom locations and live status of the booms
While our primary focus remains the forestry sector, we also offer an array of additional transportation services to cater to a diverse range of client needs.







Pulp and Paper Towing Services
We are a prominent player in the marine transportation industry servicing the pulp and paper sector, providing critical transportation services for paper, chip, and hog barges. Our commitment to safety, quality, and reliability has gained the trust of our customers. With our high level of expertise and experience, we consistently meet deadlines while maintaining safety.
As a trusted partner in the industry, we are dedicated to providing essential services to the pulp and paper sector, enabling it to thrive. Our track record of success ensures that we will continue to provide reliable transportation services to the industry in the future.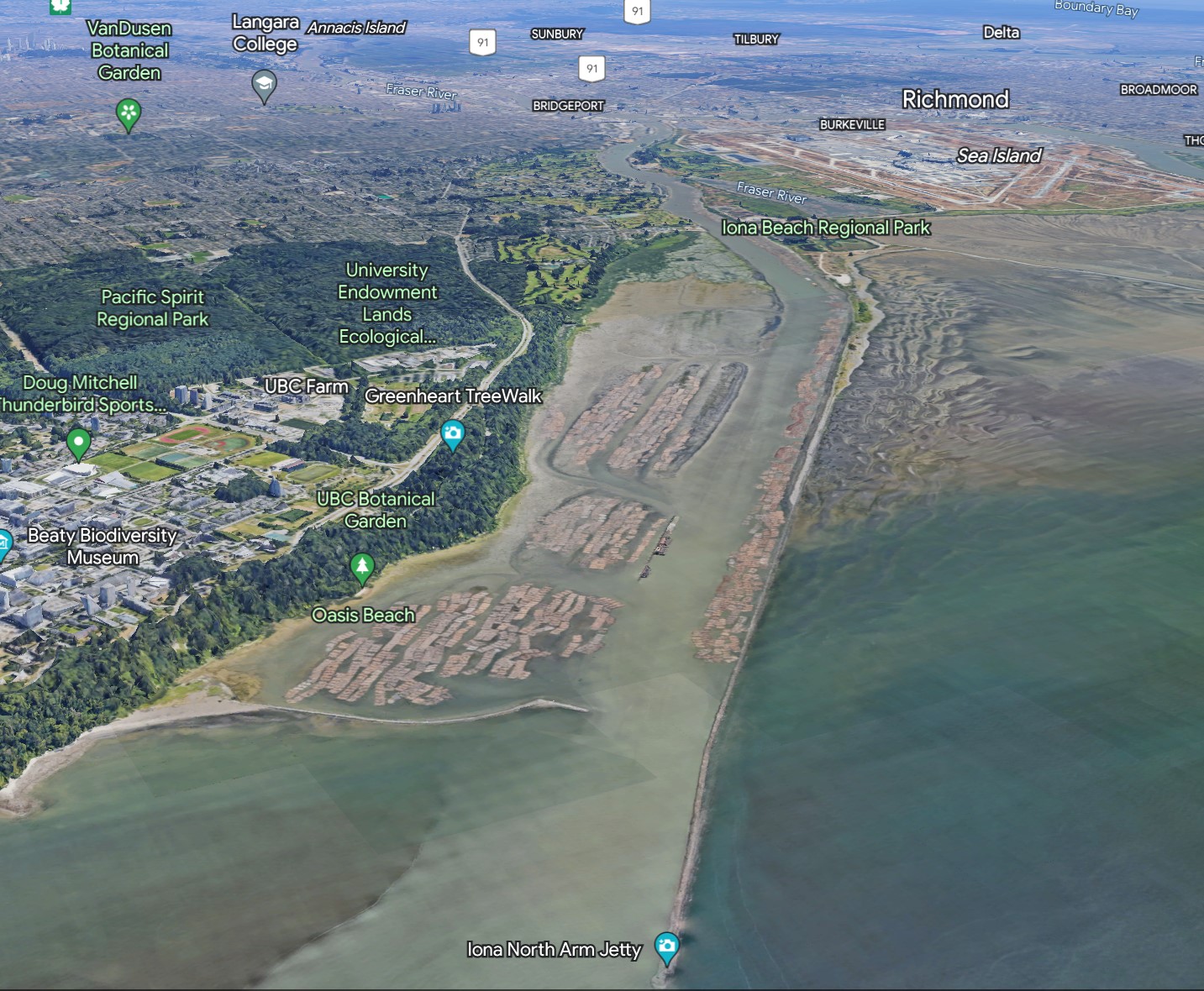 CME (Canadian Marine Exchange) Flats
In addition to providing log and barge towing services, Hodder is a leading company in the management and operation of log storage water lots. With a strong presence in the CME Flats area, located at the entrance to the North Arm of the Fraser River, Hodder excels in delivering top-notch services to its clients.
CME Flats is a preferred location for customers who bring wood into the river to be marketed and quickly sold, as well as those seeking to save on log handling costs during the freshet season between April and August.
Below is a comprehensive overview of our operations at CME Flats, detailing our grounds, contractors, and long-standing expertise in the industry.
CME Flats Overview:
CME Flats is a strategically located log storage water lot area, consisting of several usable water lots:
1-7, 11, 14, 15, and R Alleys.
These lots are expertly managed and maintained by Hodder to ensure seamless operations and maximum productivity. Our primary objective is to provide a safe, efficient, and well-organized environment for log storage, transport, and management.
CME Flats is particularly well-suited for customers storing high floating inventory due to the shallowness of the grounds, which helps avoid breakage and some additional repair costs associated with low floating logs going aground through numerous tide cycles.
Contractors:
Hodder partners with two reputable and experienced contractors to guarantee exceptional service and expertise at CME Flats. These contractors are Alley Cat Towing Ltd., operating the M/V Celtic, and Porter Towing Ltd., operating the M/V Young Hustler.
Alley Cat Towing Ltd. (M/V Celtic):
Alley Cat Towing Ltd., utilizing the under-tonnage vessel M/V Celtic, is a highly skilled and dependable contractor with a proven track record in the CME Flats area. With over 20 years of experience, M/V Celtic has established itself as an expert in log storage and transport, ensuring the utmost efficiency and safety in all operations.
The company is owned and operated by Jim Hodder.
Porter Towing Ltd. (M/V Young Hustler):
Porter Towing Ltd., utilizing the under-tonnage vessel M/V Young Hustler, is another seasoned contractor that has been servicing the CME Flats area for over two decades. M/V Young Hustler is renowned for its professionalism, reliability, and adherence to strict safety protocols, making it an invaluable partner in our log storage water lot operations.
The company is owned and operated by Glen Porter.
Collaboration and Expertise:
Our collaboration with "Alley Cat Towing" and "Porter Towing" ensures that our operations in CME Flats are conducted with unparalleled expertise and proficiency. Both companies have demonstrated their commitment to delivering the highest standard of service, contributing to the success of our log storage water lot management.